Standards for Accessible Design
Compliance with Department of Justice's Americans with Disabilities Act (ADA)
On September 15, 2010 the Department of Justice (DOJ) published the Americans with Disabilities Act (ADA) Standards for Accessible Design. The purpose of the ADA was to ensure that all electronic and information technology be accessible to people with disabilities. More specifically, 508 Standards "contain scoping and technical requirements for information and communication technology (ICT) to ensure accessibility and usability by individuals with disabilities."
Organizations Responsible for Providing Accessible Products
Federal agencies, as well as state and local government agencies must comply with these standards. Federal and state agencies have also begun requiring individuals, organizations, and programs that are funded under their respective agencies to comply with the law.
Products and Resources that Need to be Accessible
The Revised 508 Standards include IT tools and systems, as well as electronic content including documents, web pages, presentations, social media content, and blogs. Specific products commonly shared online by rural health researchers, organizations, and agencies that should ensure accessibility include:
Any research products shared online (policy briefs, fact sheets, infographics, white papers).
Slide decks from presentations that are shared electronically.
Promotional products available online (any pdf file).
Recorded webinars (video and/or audio).
Videos archived or shared online.
Ensuring Accessibility
A document or publication is "accessible" if it can be used by people with disabilities including those who are mobility impaired, blind, low vision, deaf, hard of hearing, or who have cognitive impairments. The following resources can assist you in understanding usability standards, but also cover a wide range of recommendations for making content more accessible:
Create Accessible Digital Products: GSA Government-wide IT Accessibility Program
This website houses resources provided by the U.S. General Services Administration (GSA) to assist in assuring that digital products conform to the Revised 508 Standards.
www.section508.gov/create
Web Content Accessibility Guidelines (WCAG) 2.0
WCAGs are part of a series of web accessibility guidelines published by the Web Accessibility Initiative of the World Wide Web Consortium which is the main international standards organization for the Internet.
www.w3.org/TR/WCAG20/
Characteristics of Accessible Products (PDFs)
The University of Minnesota Disability Resource Center developed resources to assist in ensuring usability and accessibility of online products.
An Accessible PDF Will Have:
Searchable text that is recognized by the computer (not scanned in).
Navigational aids including a clear title, bookmarks, clear headings, and a table of contents.
A specified language in the document to enable people who use a screen reader.
Document structure tags (these can be made in Adobe or other programs).
Logical reading order which is governed by the document structure tags.
Alternative text for non-text elements like graphs, images, or other figures.
Appropriately formatted tables.
Hyperlinked text instead pasting the full text link.
Bulleted lists to organize information into sections and key concepts with numbered lists when there is a sequence, or process. Be sure to use the software's built in list/bullet function and do not create bullet lists manually by inserting symbols.
Bolding or texture in figures and text to show emphasis or contract; do not use color alone.
Creating Accessible Products
Most people develop products in Microsoft Word, Google Docs, or a similar program. Ensuring accessibility is easier if the original content creator takes accessibility standards into consideration from the beginning. Applications like Adobe Acrobat Pro are required to create accessible PDFs and offer tools to scan documents, conform to accessibility standards, and report and offer tips to fix any issues. More information is available at Creating Accessible PDFs: GSA Government-wide IT Accessibility Program and Adobe: Create and Verify PDF Accessibility.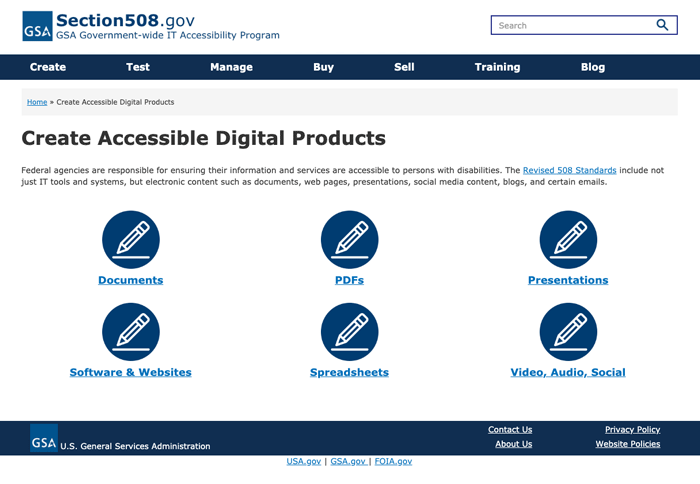 https://www.section508.gov/create/