Rural Health Research Centers and Analysis Initiatives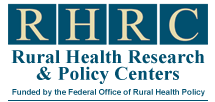 The Federal Office of Rural Health Policy (FORHP) currently funds eight rural health research centers and three rural health policy analysis initiatives. In previous funding cycles, FORHP has also funded individual researchers and other research centers. See projects currently in progress by all centers.
Current Research Centers & Areas of Expertise
Policy Analysis Initiatives
The Gateway Flyer (PDF) offers a printable overview of the Gateway and Rural Health Research Centers, including each center's web site, director, contact information, and areas of focus. Read more about the Rural Health Research Centers Program.
Past FORHP-Funded Research
Centers
(Does not include Centers funded prior to 1996)
Individual Researchers
The Federal Office of Rural Health Policy has supported rural health research conducted by individual researchers through the (currently inactive) One-Year Rural Health Research Grant Program: